What is Turmeric?
Most likely you have some sitting in your kitchen cupboard. There are many health benefits of Turmeric and this modest spice packs a real health punch.
The part of turmeric that we use medicinally is the rhizome (which is kind of like the root). Resembling Ginger root in appearance, it has been used as a spice, colouring agent and medicine for 1000's of years.
Turmeric can be taken in a number of different ways:
internally as a tea, tincture, standardized capsule or grated fresh root 

externally in a cream or poultice.
As with the majority of herbs and spices when using medicinally, caution should be exercised and if you suffer from a pre-existing illness or are on prescribed medications, particularly anti-coagulants, consult your GP or local naturopath before taking.
That said, for the majority of people, Turmeric is well tolerated even at high doses.
Enhancing absorption of Turmeric
What's key here is that it's difficult to digest and extract the goodness from  Turmeric. With this in mind just add a crack of black pepper or pinch of ginger to increase absorption.
The active constituents in turmeric are essential oils and curcuminoids (The main curcuminoid is curcumin).
This is why you may see turmeric capsules in your local health food store labelled as 'Curcumin extract' or variations along this theme, instead of just labelled as Turmeric.
Health Benefits of Turmeric
Turmeric is strongly anti-inflammatory, inflammation plays an important role in every chronic western disease (1). Internally turmeric has been used in the treatment of:
arthritis,

poor digestion, stomach ulcers, liver function and dyspepsia,

useful in the long-term prevention and treatment of cardiovascular disease

as an adjunct to certain types of cancer treatment.
Externally turmeric has been used to treat inflammatory skin disorders such as eczema, skin infections and acne. At the last count there were 92 ongoing or newly completed research trials into the various uses and benefits of Turmeric and its active constituents(2),
Arthritis
Arthritis literally means joint inflammation.
According to the Arthritis Foundation, there are more than 100 different diseases that can produce joint pain and inflammation. However most people referring to arthritis are referring to the 3 most common types,
Osteoarthritis,

Rheumatoid Arthritis 

Gout (Gouty Arthritis)
These diseases can be crippling and very painful, Turmeric taken daily may provide relief from the pain and swelling commonly experienced with these diseases.
Inflammatory skin disorders
Turmeric is beneficial for a variety of skin disorders such as Acne, Psoriasis and Eczema. Turmeric can be used both internally and externally or as a combination of both (3).
Turmeric is also anti-microbial and increases wound healing and is a useful addition to any topical ointment for wound healing.
Caution should be exercised here though when considering using topical turmeric as using topical applications of turmeric can make your skin more sensitive to sunlight (4).
Digestive System Health
As turmeric is an anti-inflammatory it's useful in digestive disorders such as Irritable Bowel Syndrome (IBS) and Inflammatory Bowel Disease (IBD).
A research trial into IBS was recently conducted where a daily dose of standardized turmeric extract was administered to people suffering from IBS.
The participants reported a marked reduction in symptoms (5).
A recent small study using turmeric in treatment of IBD for several months saw a marked reduction in symptoms(5)
Liver Function
Several studies have demonstrated that Turmeric has a unique function in preserving the function and integrity of liver cells (6).
When used regularly it may help to protect the liver against damage.
Turmeric can also increase bile production (a substance made by the liver and stored in your gall-bladder that is utilized in digesting the fats we eat).
Low bile levels can result in heartburn, general bloating and discomfort after eating and constipation as well as a number of other serious health issues. 
Daily turmeric intake can help to increase bile levels. Turmeric should not be taken if you have gall stones.
Cardiovascular System
Turmeric also has a protective effect on your cardiovascular system in several different ways, including lowering your cholesterol and triglyceride levels.  It also protects against the effects of oxidative stress in hardening your arteries (7)
How much Turmeric should you take?
The amount of Turmeric you require on a daily basis will vary depending on several factors, your age and body composition and the specific reason you are taking it.
That said, here are some general guidelines as to the recommended daily dose of Turmeric (2) Start with a lower dose and get creative with it in the kitchen. Try my Turmeric Chai latte or Turmeric Tea.
| | | |
| --- | --- | --- |
| Type | Daily Dosage | Directions |
| Liquid extract (1:1 potency) | 5-14ml | Split dosage into 4-5 equal doses throughout the day |
| Dried Root | 8g (2 teaspoons) | Mix 1 tsp dried root into a slurry and drink once or twice daily. Add a tiny pinch of black pepper or ginger |
| Fresh Root | 1-5g daily | Add to salads or vegetable dishes with a tiny pinch of black pepper or ginger |
| Capsules | | Follow manufactures instructions as potency varies between brands |
Basic Turmeric Tea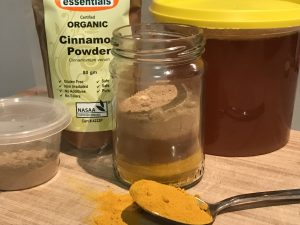 To make 1 cup of turmeric tea, take 1 tsp of dried root and boil in hot water for 10-15 minutes (woody plants need actively boiled to extract the goodness unlike their leafy counterparts).
Strain and sweeten with a little honey.
The flavor is quite earthy and takes a bit of getting used to. You can always add ½ tsp of fresh ginger root to the boiling turmeric to improve the flavor plus you get the added health benefits of ginger.
Turmeric Latte
I love making this warming, healing drink on a cold winter's day. It warms my heart and soothes my aches and pains. You could even make it and chill it in the fridge if you live in warmer climates.
I encourage creativity with recipes, perhaps use almond milk instead of coconut milk. If it's too spicy, try using some more milk or sweetener.
Ingredients:  (This makes enough for several weeks if dried spice mix is stored in an airtight container.)
2 tbsp ground turmeric
2 tbsp ground ginger
2 tbsp ground cinnamon, plus extra to serve
1 tsp liquid sweetener of choice (I use Rice Malt Syrup or honey)
200ml coconut milk (or other milk of choice)
Method:
Combine the ground turmeric, cinnamon and ginger in a small container.

Add 1 tsp spice mix to a large mug and add enough hot water to cover and stir to combine. (Store the rest of the ground spiced mix in an airtight container)

Add the liquid sweetener and mix into a paste.

Add coconut milk to a small saucepan over medium heat and bring to the boil, stirring constantly.

Carefully pour over the spice paste and stir to combine.

Sprinkle with cinnamon (or maybe some nutmeg) and enjoy with your favourite book with your feet up on the couch.
The Bottom Line
The health benefits of Turmeric are numerous and it is such a wonderful herb both in a culinary and medicinal sense.
It's useful in so many different ways and is a cost-effective home-remedy that will definitely give you bang for bucks.
I keep both dried turmeric and turmeric capsules in my herbal first-aid-kit and will often buy some fresh Turmeric from my local growers market to pop in my salad.
Resources
Lumeng, C.N. and Saltiel, A.R., 2011. Inflammatory links between obesity and metabolic disease.

The Journal of clinical investigation

,

121

(6), pp.2111-2117.

Thavorn, K., Mamdani, M.M. and Straus, S.E., 2014. Efficacy of turmeric in the treatment of digestive disorders: a systematic review and meta-analysis protocol.

Systematic reviews

,

3

(1), p.1.

Vaughn, A.R., Branum, A. and Sivamani, R.K., 2016. Effects of Turmeric (Curcuma longa) on Skin Health: A Systematic Review of the Clinical Evidence.

Phytotherapy Research

.

Mills, S. and Bone, K., 2000.

Principles and practice of phytotherapy. Modern herbal medicine

. Churchill Livingstone.

Gupta, S.C., Patchva, S. and Aggarwal, B.B., 2013. Therapeutic roles of curcumin: lessons learned from clinical trials.

The AAPS journal

,

15

(1), pp.195-218.

http://www.mayoclinic.org/diseases-conditions/inflammatory-bowel-disease/basics/definition/con-20034908

Spelman, K., Burns, J.J., Nichols, D., Winters, N., Ottersberg, S. and Tenborg, M., 2006. Modulation of cytokine expression by traditional medicines: a review of herbal immunomodulators.

Alternative Medicine Review

,

11

(2), p.128.