The Excalibur food dehydrator is one of the best around for dehydrating fresh herbs.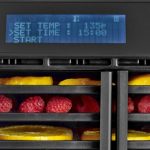 If you grow your own herbs for home remedies then you'll find a dehydrator a BIG asset.
Basically, you pop the leaves/flowers/stems/berries on the trays, set the temperature, switch on and leave it to do it's work?
There are many food dehydrators on the market and generally speaking, you get what you pay for. I've tried the $30 kind, waste of money! You can also pay thousands, the Excalibur comes around the middle and is good value for home use.
Don't forget, you can make fruit leathers, jerky, fish, in fact, you can pretty much dry any kind of food.
Excalibur Food Dehydrator
The Excalibur comes with nine trays. The drying space is 15 square feet and there is a switch on/ off and thermostat. The Since the trays are polyscreen and removable, the product is easy to clean. Here is a full list of the features:
2 Drying chambers, which can be controlled separately
10 available drying trays
Adjustable thermostat 29°C – 74°C
Toughened glass doors for easy viewing of drying cycle without temperature loss
Quiet 6.5″ fan motor, 600 watt element
Digital control and display panel
Parallexx™ horizontal air flow and Hyperwave™ Fluctuation drying technology
30 programmable recipe slots to easily access customized settings
Removable drip tray for easier cleanup
Warranty 5 years home use, 12 months commercial use
Dimensions 457(H)x 305(W)x 406(D)mm
Power Type 600W. 2.7A
Supplier Model Number EXC-RES10
Temperature Range 29°C – 74°C
Voltage 230V
Warranty 1 year commercial warranty. 5 year domestic warranty
Weight 22kg
Plug fitted Yes
The Excalibur Food Dehydrator removes water from food by a continuous circulation of thermostatically-controlled warm air. A variety of foods, from bright golden kernels of farm-fresh corn to rings of island-sweetened pineapple can be dehydrated.
Slices of beef, chicken, fish or even venison can be easily dried into homemade jerky. A fruit puree dries into a vividly colored, taffy-like snack or fruit roll.
Make soup mixes, herb and spice mixes, yogurt, arts & crafts, even all-natural pet treats. Using your dehydrator compared to traditional canning or freezing methods will prove to be well worth your initial low-cost investment.
.Some comments from satisfied users:
Hands down best dryer.
Food dries evenly.
Piece of cake to clean and use.
 My kids love the healthy snacks that come out of it!
In terms of using it for home remedies, it's great. seasonal berries on one side for coughs and colds, herbs in the other!